Talacre Beach Resort has been a popular holiday destination for nearly 60 years, with the village, beach and lighthouse consistently drawing new fans…
Talacre village has a population of just under 400, with only around 100 residents actually being born in Wales (2011 Census), this helps to show how popular a holiday home destination Talacre really is. It is embedded into the pop culture conscious as a 'typically British' seaside holiday resort, however guests are blown away by the luxury that greets them when they stay with us at Talacre Beach Resort.
Talacre Beach itself, was used for evacuees and Spitfire training during World War II, this lead to a number of evacuees becoming permanent residents or later on, holiday home owners.

The beach is now known for the beautiful golden sands, world famous sand dunes, as well as being an RSPB nature reserve and a Special Area of Scientific Interest, with the population of protected newts and natter jack toads living in the dunes.
Talacre Beach Resort first opened in the 1960's, known then as Morfa Camp, and some of our first holiday home owners originally used to holiday on the Warren in the 'bungalows', which were self-contained shacks along the beach.
Our beautiful resort grew in popularity and by the 70's, there was a 44 acre holiday resort filled with all the luxuries of the time, and is has continued to develop and grow with the times since, having recently undergone a one million pound renovation of the five star facilities.
Have a scroll below of some of the older images of Talacre, these include images of the village, the Warren bungalows and the start of Talacre Beach Resort.
Images are from the Talacre Community Centre Facebook page and Francis Frith website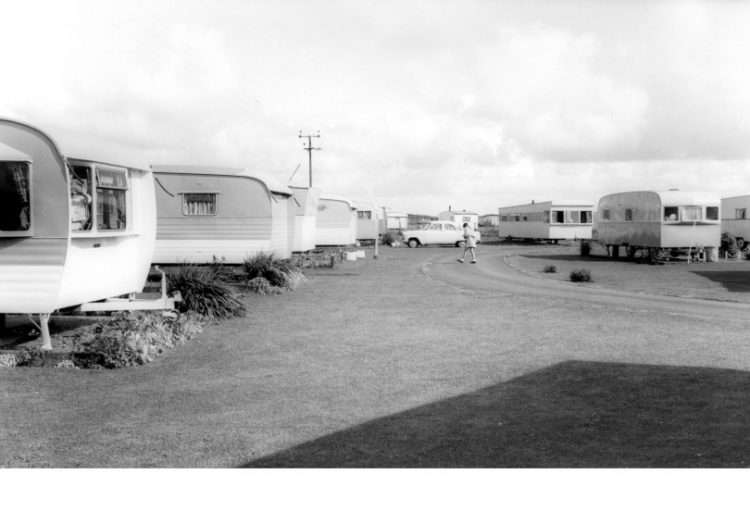 ---
the lighthouse
The iconic lighthouse was built in 1776 and is only around a 15 minute walk from our Talacre Beach Resort.

The lighthouse is arguably one of the most photographed in the UK and has featured in a Dulux TV advert, as well as an episode of the popular E4 drama, Skins.
It is also known for its supernatural stories, with many ghost sightings over the years reported, with people most commonly seeing a figure wearing old fashioned lighthouse keeper clothes near the lighthouse and a figure standing in front of the glass dome, the lighthouse has been abandoned for a long time.
So popular were these stories there was an art installation placed in front of the glass down, in respect of the legend of the lighthouse keeper. The metal figure had holes cut into it to create a 'moaning' tone when the wind blew through it.
Scroll below for older and more recent photos of the lighthouse…
---
With so much history in this little village, it is easy to see why people are drawn back to the Welsh coast time and again. Learn more about the history of the town and the community determined to keep it alive, in our Talacre: Now & Then post.
Talacre Beach Resort offers first class holidays and outstanding holiday home ownership options, with a wide range of lodges and holiday homes for sale in North Wales, as well as our stunning, five star and recently renovated, facilities, which includes an indoor heated swimming pool, beautifully decorated restaurant and bar, new arcade and a fantastic daily children's entertainment programme, along with a family evening entertainment programme.
To learn more about joining our friendly ownership community, book a park tour to meet our team and see the resort with your own eyes, talk to an advisor via our Live Chat service, or call our dedicated team on 01745 858010.
Lighthouse Photo Credit: Steve Wilson