Based in North Wales, June and husband Billy educate and excite people with their beautiful exotic animals! Animals Out The Box work with the local pet store, Chrysalis Pets, and offer exotic animal encounters with the aim to educate. June holds a BSc (Hons) in Animal Science and is under taking a PGCE too, both June and Billy adore their animals and love to introduce them to the children and adults alike, loving the smiles on the faces of someone meeting a lizard or snake for the first time. Being so knowledgeable in the care of exotic animals they take part in birthday parties, events and also help with phobia curing, being patient and giving someone the knowledge around the animals and letting them become comfortable around them.
In their family of exotic animals, joined with Chrysalis Pets, they have lots of snakes, a whole host of arachnids, insects, mammals, rodents and lizards! With a particularly friendly gecko, who loves to jump on your chest for a cuddle and hello – he's irresistible with his cheeky smile; a posing and beautifully photogenic rat; plus chinchillas, hedgehogs and an extremely relaxed guinea pig. But the undoubtable star of the show is Bandit, the Tanuki (or Racoon Dog), which is actually closer in relation to a fox rather than a dog. Bandit is something of a local celebrity and when you meet her you can understand why, gentle in nature and breath-takingly beautiful, she is a joy to see!
Recently visiting Talacre Beach Resort, Animals out the Box delights everyone – including Charlie Bear and his Rangers, who were on top form to help June and Billy take care of the animals!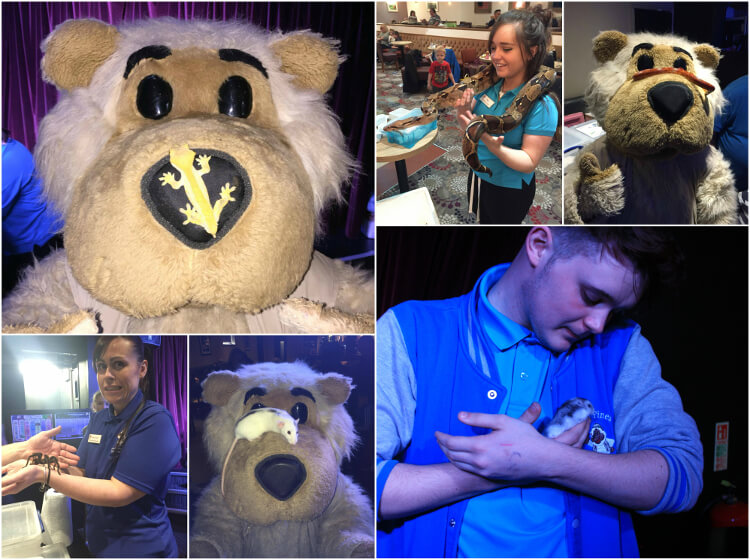 A fantastic treat for everyone at Talacre Beach! Lots of fun was had, with loads of knowledge too! June and Billy are two of the most friendly, knowledgeable and patient people you could meet, with a family of relaxed and happy creatures to boot! (I now really want a smiley gecko!)
Check out their pages and see the beautiful pictures of their stunning family for yourself! Great family fun with a twist!