Get Ready For It! The brand new musical The Band has opened in Llandudno. Prepare to be taken back in time to 1993 in this heartfelt musical which follows five 16-year-old girls all fixated on their weekly dose of Top of the Pops, Smash Hits magazine and a goal to meet the members of their much-loved boy band.
In the first act we follow the five best friends through the ups and downs of school life and when Debbie (played by Rachelle Diedericks) wins a competition to see their favourite pop group, the five friends head to their first ever pop gig filled with excitement. Suddenly the girls are left in a situation they never thought they'd have to face and part ways. (To avoid giving away any spoilers, just make sure you take some tissues!).
Flash forward to 2017, we're reunited with the girls who are now women in their 40s and when their beloved boy band heads on a reunion tour, they pack their bags and head to Prague still determined to meet their heroes. But the trip turns into more than just revisiting the past and instead they realise they all need to say goodbye to their ghosts and rekindle their friendship.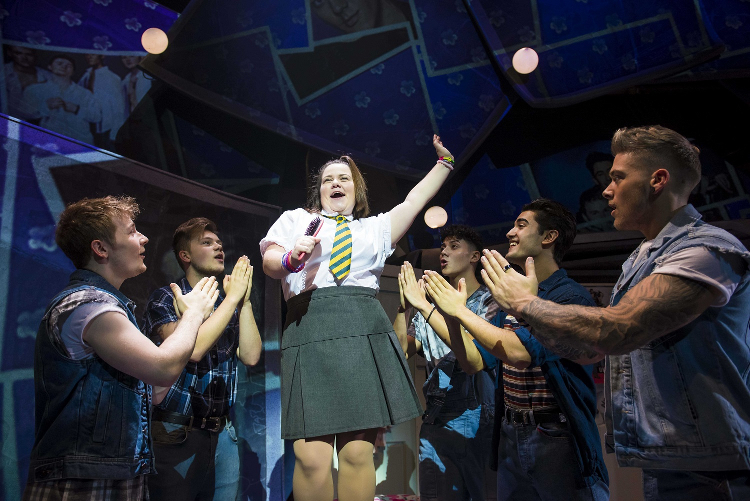 This musical provides more than just a tribute to Take That. It tugs on the heart strings from the off and portrays real life stories and situations but also adds some much needed comical humour to bring you back up after the lows.
If you watched BBC's Let It Shine then you'll recognise The Band played by AJ Bentley, Nick Carsberg, Yazdan Qafouri, Curtis T Johns and Sario Solomon, who, as Five to Five, won the show earlier this year. They brought the Shine to the show, featuring in almost every scene and following the girls throughout their life journey – showing how a boy band can become part of your life. They provide plenty of classic boy band dance moves, as well as singing some of Take That's most known songs such as Pray, Million Love Songs and Greatest Day but their stunning harmonies stood out best when singing songs such as The Garden and Said It All.
The star performance comes from young Rachel played by Faye Christall who shone on stage, she was so down to earth and relatable. The character, who Faye shared with Rachel Lumburg (older Rachel), was the lead role of the five girls and you could just tell that The Band was a massive part of her life. When things got hard she'd cry out 'Louder Boys' as they were signing around her which was so heart-warming to watch. Young Heather played by Katy Clayton had audiences in fits of laughter, her comic timing is much to be admired!
A personal favourite scene of mine was when both the 90s girls and 2017 women were sat on a bus with disguised members of The Band. Together they sang a beautiful rendition of Back For Good which had members of the audience singing along.
If you were once or still are a fan of a pop band then The Band will resonate with all those feelings that you Never Forget, even if you aren't a Take That fan, you'll still be blown away by all the amazing entertainment it offers!
I can honestly say that The Band is one of the best musicals I've ever seen – you will not be disappointed and it almost feels like Take That themselves are giving a nod of thanks to their loyal fans.
So take a nostalgic trip back to the 90's and be prepared to sing your heart out for one night of unmissable entertainment!
---
To book tickets to see The Band (which will be in Llandudno until November 25th) visit the Venue Cymru website or phone the Box Office on 01492 872000.