family-friendly
holidays
seasons
April 6, 2022
·
10 MIN READ
Get away during Easter weekend and escape to one of our stunning resorts across the UK.
Have you decided to enjoy a last-minute trip with your family or friends this Easter? To make things easier we have put together a list of resorts that still have availability across the Easter weekend. There are all with check in from 4pm on Good Friday and check out by 10am Easter Monday. See if any below suit your group size and remember once they're gone they're gone so book now to avoid disappointment!
4 guests
2 bedrooms
2 bathrooms
Inside the Marple Lodge you will be able to enjoy a luxurious king size bedroom and twin bedroom suitable for 4 guests. There is also an open and airy feel to the lodge with the open plan living area and you will have access to the 5 star facilities on site such as the hydrotherapy pool.
4 guests
2 bedrooms
2 bathrooms
Ideal for families, couples and groups of friends, the Hawthorn Lodge is a spacious, airy lodge with everything you could need for a self-catering escape. Enjoy the views in the morning looking out onto the golf course and/or trees and take advantage of the facilities on site like the 1893 Spa.
4 guests
2 bedrooms
2 bathrooms
Explore Warwickshire and use the stunning Claverdon Lodge as your base in Stratford-upon-Avon. This two bedroom lodge has a double and twin room along with a family bathroom and en-suite in the master bedroom. It's the perfect space for any group with a spacious open plan living area where you can spend time together in the evenings.
6 guests
3 bedrooms
3 bathrooms
The Houghton Lodge is spacious enough and can provide plenty of room for larger families or groups. Whether you want to spend the weekend making the most of your self-catering break or you want to use the facilities on site like the restaurant and pool. Inside the lodge there are two double bedrooms and a twin bedroom.
4 guests
2 bedrooms
2 bathrooms
pet-friendly (please include your pet in the booking)
Located in the Yorkshire countryside and the perfect place if you want a break away full of walks and exploring. The Millington Deluxe Lodge is great for families and groups with two bedrooms, one double and one twin both with en-suite bathrooms. You can also take advantage of the on-site facilities like The Box gym and the spa.
2 guests
1 bedroom
1 bathroom
Perfect for couples looking for a short city break in Bath, the Norland Lodge has a super kind size bed with an en-suite bath and shower. It's the perfect way to enjoy a city break without being in a busy city centre hotel room. The idyllic setting of this resort can provide you with a balance of relaxation and city living.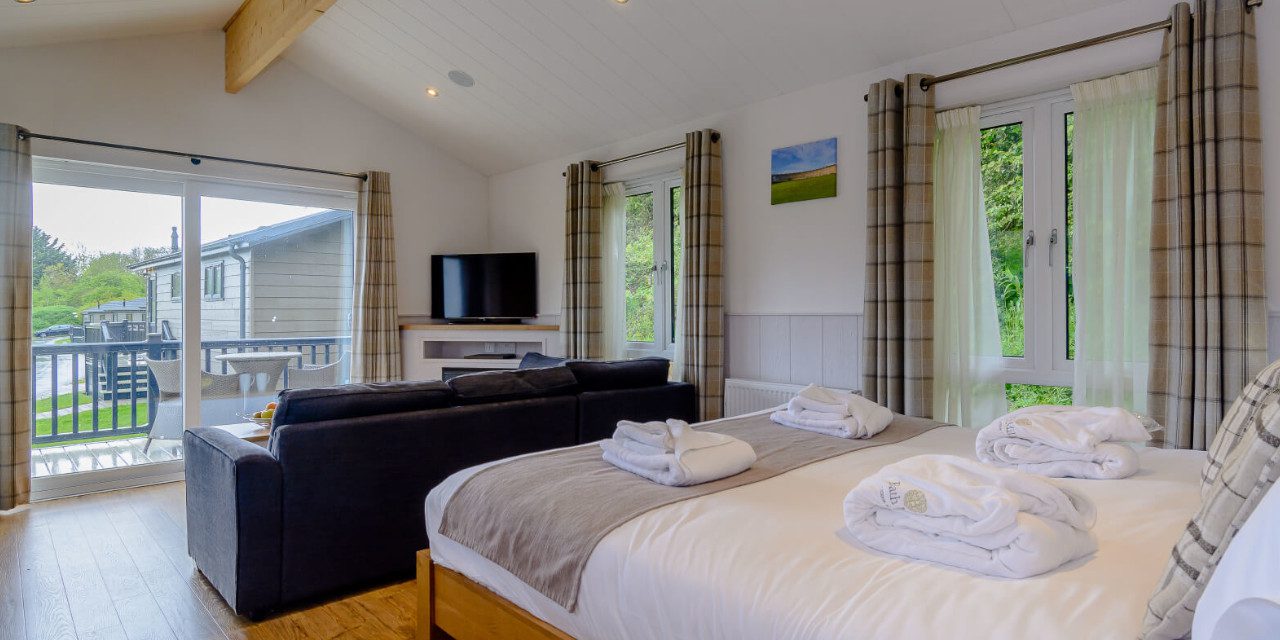 2 guests
1 bedroom
1 bathroom
For a break away like no other, The Suite Apartment is perfect for a couples get away. This luxurious apartment overlooks the stunning Hele Bay with incredible views out to sea. It's the perfect walking holiday with easy access to some of the best coastal walks in Ilfracombe.