Take a look around the beautiful & elegant ABI Ambleside Luxury Caravan
The ABI Ambleside combines practical features with elegance, comfort and style. The Ambleside is currently available to buy at the 5 Star Piran Meadows Resort & Spa in Newquay Cornwall. Combining the beautiful surroundings of North Cornwall, with luxurious facilities including a stunning indoor swimming pool, a luxurious spa and an on-site restaurant & bar – it is the perfect place to own a luxury static caravan.
ABI Ambleside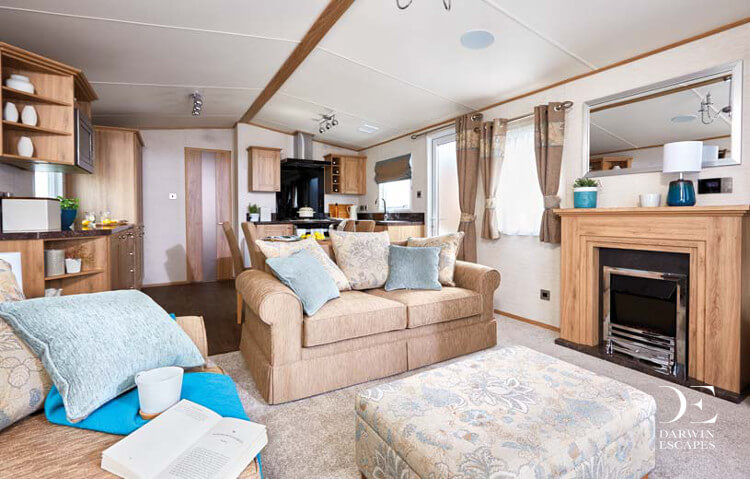 The ABI Ambleside is a luxury static caravan with an amazing range of features, a robust and durable frame and exterior with a beautifully designed interior boasting a range of stylish finishing touches that represent the attention to detail that has gone into the design and manufacture of this iconic model.
This holiday home is perfect for those looking to get away from it all with the family at the weekends, providing the escape to the tranquility of the countryside that we all crave by Friday afternoon! For those who may be looking to spend the whole holiday season residing in their luxury static caravan; the ABI Ambleside is perfect for that too, thanks to its condensing boiler and central heating it provides the level of warmth and comfort that you might expect at home during the colder autumn and winter months.
This is the first choice of many first time static caravan buyers and also those with a little more experience of the holiday resort lifestyle. Pre-owned Ambleside models are affordable and with finance available are a great choice for those looking to purchase their first home from home at a luxury holiday resort & spa.
Piran Meadows Resort & Spa is surrounded by tranquility and wildlife, set in a beautiful area of Cornwall, it provides amazing panoramic views of the countryside. For those looking for a more vibrant holiday resort experience, there are a range of luxury leisure facilities found in the onsite complex including a heated indoor swimming pool, a number of pool tables, a blissful spa, a state of the art gymnasium and even bowling alleys! Just 6 miles from the beach, the vibrant seaside community that Newquay in Cornwall is famous for, is also just a short drive away!
Want to find out more? Click here to see our full range of ABI Ambleside luxury static caravans. Or for any more information call our Ownership Team on 01745858010, or talk to an adviser via our live chat service, and start your ownership journey today!