Are you looking to catch some waves in Dorset? Well, worry not, as we've done the legwork to highlight the top 5 places to surf in Dorset, so you don't have to!
Whilst surf in the UK is far from consistent, it more than makes up for it in diversity! With five surfing schools and lots of places to hire boards dotted along the coast, Dorset is a great place to learn. Locations in Dorset may not be considered the best, or most reliable surf spots in the UK, but the county's natural offshore reef means that waves form well even without a great deal of groundswell. Dorset can therefore offer great surfing in the right conditions that can cater to both experienced and novice surfers.
---
1. Kimmeridge Bay
Kimmeridge Bay is something of a legendary place on the south coast. It is home to some of the best waves in the country and is nestled amongst the breathtaking scenery of the Jurassic Coast. It is well known as both a surfing venue and a windsurfing hotspot and is also where the renowned custom board shaping and repairs company, K-Bay, derived its name. To get to Kimmeridge Bay you need to pay a small toll, and then you can park just a minute's walk from the slipway (you may have to pay for parking).
The wave itself is a very consistent long mellow reef break that favors left-handers. The surf is usually best in the winter months, and it works best in offshore winds from the north. It is worth noting, however, that the beach shares a border with a military firing range, and there have been reports of shells landing out to sea. Therefore remember to take heed of the red flag, as you could encounter a lot worse than rough seas!
---
2. Bournemouth Beach – the pier, and at Southbourne
A popular spot due to its close location to the town, Bournemouth Beach has fun, beach-break peaks with sandbars anchored by the pier. The Eastside is the most popular spot, with left-handers heading back into the pier and faster rights leading down the beach. There are more peaks on the west side without the SW wind protection. On a solid SW groundswell and N wind, there are decent barrels for the taking. There are also a number of surf schools on the beach, making Bournemouth Beach a perfect place for beginners. In the summer months it can often be crowded, and competition for waves can be tough. On sunny summer days where the beach is heaving, you are probably better off visiting another of the places on this list!
---
3. Highcliffe Beach
With views facing out across Christchurch Bay and the Isle of Wight, Highcliffe Beach is a popular resort beach as well as a surfing destination.
The surfing itself is pretty variable, as it is a fairly exposed beach break that only works when conditions are just right – it can often be a bit slow and crumbly. Winter is the best time of year for surfing here, and northerly winds are favorable. The wave itself tends to receive a relatively even mix of groundswells and wind swells and the ideal swell angle is from the southwest. The beach break provides good left and right handers on its day, although Kimmeridge and Bournemouth beach is arguably more consistent.
---
4. Durlston Point

Perfect to visit if you are staying at Wareham Forest Lodge Retreat, Durlston Point is a variable point break located in the shelter of some imposing limestone cliffs off Durlston Head. Winter is the best time of year for surfing here, and ideal winds are from the west, although there is some shelter here from southwest winds. Wind swells and groundswells are in equal measure, and the ideal swell angle is from the southwest. The best time to surf is around low tide.
Although the site is a bit hit and miss, when conditions are right, Durlston Point can provide some of the best point break waves that the UK has to offer, however, these days are extremely rare, and there are many more consistent places in the vicinity. There are relatively few surfers here, even on good days, however, beware of rocks and rips, if you are inexperienced I would recommend Bournemouth Beach as a better spot to build your confidence.
---
5. Lyme Regis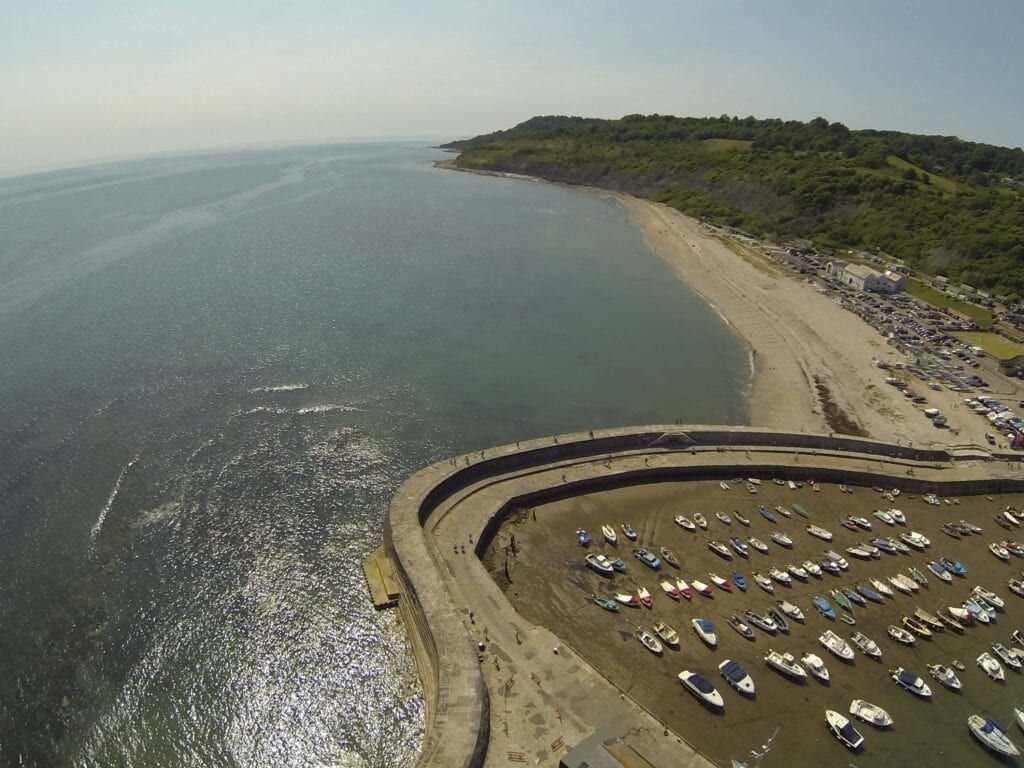 Lyme Regis Habour Wall in the South Coast of England is a quite exposed point break that has unreliable waves, which are best during winter months. Despite not being renowned as a surf destination, Lyme Regis does offer up some decent surfing conditions. Plenty of reefs make for predictable breaking sets and easy paddle-outs. There are safe sand-bottomed smaller waves close to the harbour in the bay right through to the punchy reef wedge, thus there is something for everyone. Whilst Lyme Regis isn't on the map for the serious surfer, as long as you are willing to get out there and enjoy it, you can still have plenty of fun!