search our range of
caravans for sale in
Conwy
find your dream static caravan or holiday lodge in Conwy
Discover holiday home ownership at Aberconwy Resort & Spa, create endless moments of joy, venture off the beaten track and find your forever escape.
You'll find your own slice of North Wales when you buy a static caravan in Conwy. Explore the coastline, again and again, chase the summer sun on golden beaches and discover picturesque towns and villages along the coast.
Whether you're searching for a cosy static caravan to start your ownership journey with, or looking for a spacious lodge for family get-togethers, we'll have the perfect home from home waiting for you. Enjoy entertaining family and friends or romantic escapes with your peaceful retreat, you'll find your holiday home with our wide range of static caravans for sale in Conwy.
search our latest stock
find your own peaceful escape at Aberconwy
our static caravans for sale
Enjoy limitless getaways to our beautiful Aberconwy caravan park, where you can relax and unwind just a stone's throw from the beach.
Here at Aberconwy, we have a huge range of caravans for sale near Llandudno waiting for you. We have two and three-bedroom holiday homes available, with fitted kitchens, lots of storage, and your choice of plot on our resort. With open living areas, floor-to-ceiling windows, and family bathrooms, you'll know you'll have enough space for the whole family.
Owning your own static caravan in Llandudno means being able to escape the coast whenever the mood strikes. You can pack a bag, jump in the car and go explore a whole new area! Enjoy theatre shows at Venue Cymru, stroll along the beach, discover the independent stores along the stunning pier – there are endless adventures to be had!
After spending all day exploring, head back to your holiday home and get cosy on winter nights, watching the weather roll in across the sea. Or spend summer days enjoying BBQ's on your private decking* with your family and friends, soaking up the sun. You'll love spending time in your own slice of North Wales with a beachside caravan at Aberconwy.
We also have finance options available, so there's never been a better time to join our community and buy your static caravan with Darwin Escapes.
*optional extra
our Llandudno lodges
Perfect for entertaining the whole family, our range of luxury lodges for sale will have everything you need. All our lodges include fully fitted kitchens, large bedrooms, and open-plan living spaces with comfy sofas and floor-to-ceiling windows, showcasing your view of the sea or the stunning Snowdonia Mountain Range.
Make the most with optional decking, where you can sit back, relax and soak up the sun. With two, three, and four-bedroom options available, we will have the perfect luxurious lodge for your forever getaway. Search for the perfect family lodge, with bedrooms and walk-in wardrobes, or find your dream holiday home with a roof-top terrace for the ultimate views and relaxation – we really do have it all!
Whether you're searching for a holiday lodge or a static caravan by the coast, Aberconwy has everything you need for a holiday home destination in North Wales.
find the right finance for you
we offer a wide range of finance options…
relax and unwind
Take full advantage of our stunning spa facilities, where you can truly let go and unwind.
Take a dip in our beautiful indoor heated swimming pool, soak up the heat in our sauna and steam room, before enjoying the soothing bubbles of our Jacuzzi. Escaping to the beach isn't all about sand in your sandwiches, enjoy the luxurious spa facilities before chasing the summer sun.
Our Langley's Country Club and Gym will have everything you need for a full-body workout. You'll have unlimited access to the gym area, with a wide range of cardio machines, free weights, and a dedicated deadlift area. There is also a separate HIIT Room where you can work on your core with our wonderful PTs, who also offer a schedule of fitness classes.
As an owner at Aberconwy, you'll enjoy 20% discount on our other fantastic facilities too. This includes Mali's Hair Salon, where the expert staff offers a variety of hair treatments for everyone.
Book your massage in, enjoy a refreshing facial or treat yourself to a manicure from our stunning Aberconwy Spa. Our fully trained therapists offer a wide range of treatments for everyone to relax and unwind.
Become a regular at Signatures Restaurant, where the ever-changing menu from chef, and owner, Jimmy, will have your mouth-watering and wanting to try a new dish on every visit.
Escape to luxury at Aberconwy with our stunning facilities.
explore and discover
Explore the local area, search for your next adventure or find the perfect place to unwind – it's all here waiting for you.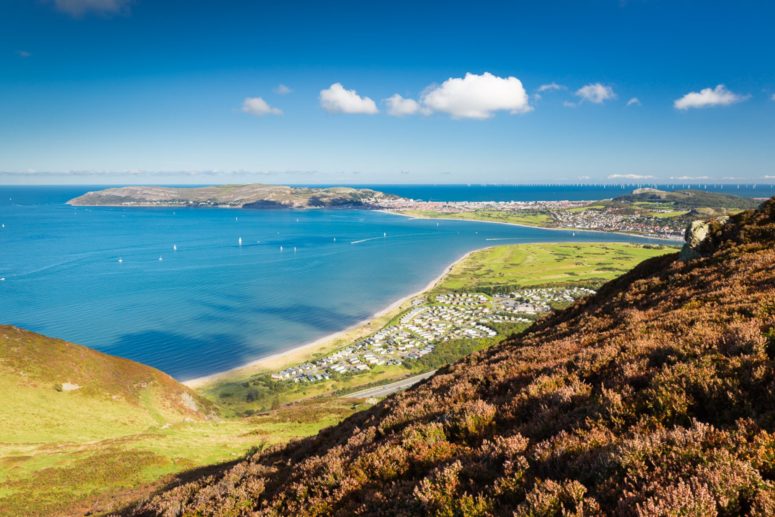 Climb mountains, wander hidden forests, surf the waves or be still on the beach, the choice is yours. North Wales has so much to offer, and with your own static caravan in Lladundo you're perfectly placed to discover it all.
Thrill-seekers will love hiking the mountain range, heading to ZipWorld for a bird-eye-view of a quarry, or surfing in-land and enjoying the activities at Surf Snowdonia. Test your nerve at jumping on nets held up on the side of mountains in MASSIVE caverns in the Welsh mountains at Bounce Below, or try your hand at coasteering – there really is something for everyone.
History buffs will love discovering all the historic Castles, with Conwy Castle only a short distance away. Learn all about King Edward's Iron Circle, walk the walls of the famous walled-in town and find out more about the fascinating history of the Smallest House in Great Britain.
Learn lost legends, discover adventure or simply relax, kick back and soak up the sun on the endless miles of golden beaches all around you. North Wales has something to offer everyone.