more about our
UK golf breaks & golf holidays
Here at Darwin Escapes, we have three stunning golf courses in the English countryside and Scottish coastline offering some of the best golf breaks in the UK.
Book a UK golf break with us and enjoy a new course to test your skills, whether it's our famous Scottish links course, our rugged Yorkshire Wolds course or our beautiful Oxfordshire course. Discover new skills with challenging courses and explore new places with a golf break in the UK.
Whether you're looking for a family escape with a golf course perfect for older children to play or searching for the ultimate relaxing getaway to get a game in, our resorts have everything you need for a golf holiday break for you and your loved ones.
why book a golf break?
With our destinations offering a range of experiences, booking a golf holiday with us means exploring a whole new landscape, testing your skills and meeting like-minded people.
Our courses are in some of the UK's most picturesque holiday destinations, including spectacular views across the Scottish coastline and beautiful woodland views in Yorkshire.
Getaway with your loved ones on family gatherings and friendly escapes, with beautiful facilities available for all interests and improve your game with our fantastic courses on your UK golf break.
where in the UK are Darwin Escapes'

golf breaks

situated?
You'll find our three golf courses located in prime golfing areas.
Including Ayrshire in Scotland, the Yorkshire Wolds, and Oxfordshire. Each of our three venues offer something unique, so you're sure to find the perfect challenge for you and your friends with a golf break in the UK.
Dundonald Links
Ayrshire, Scotland
Dundonald Links has undergone a multi-million-pound renovation and redevelopment, with first class facilities available and stunning bespoke accommodation.
Purpose-built for golf breaks in Scotland and located in the heart of Ayrshire's golf coast, our stunning lodge accommodation has everything you need for a golf holiday break. With self-catering facilities available, 2, 4 and 6 bedroom lodge options, we know we're the place to stay for a golf break in Scotland.
The 72 par golf course has previously hosted the 2015 and 2016 Aberdeen Asset Management Ladies Scottish Open, as well as the Aberdeen Asset Management Scottish Open in 2017. Dundonald Links is perfect for golf weekend breaks in the UK or longer holidays.
Kilnwick Percy Resort & Golf Club
Pocklington, Yorkshire
Set in 120 acres of Yorkshire Wolds, Kilnwick Percy Golf Club, in Pocklington, Yorkshire, is known as one of the most beautiful courses in the region.
Playing host to professional and amateur competitions, including the William Hunt Trilby Tour, the course offers something for all skill sets. Kilnwick Resort is home to beautiful two-storey lodge accommodation, with private hot tubs and floor-to-ceiling windows showcasing the stunning countryside.
We also have a variety of facilities, including our spa lodge offering a range of treatments, the outdoor Nordic Spa with swim spa and barrel saunas, as well as The Glasshouse restaurant offering delicious dishes and fully-stocked bar. Situated only a 30-minute drive to York city centre, Kilnwick Percy Resort & Golf Club is the perfect destination for a golf break in England.
The Springs Resort & Golf Club
Wallingford, Oxford
Currently undergoing a multi-million-pound renovation and redesign, The Springs is sure to be the go-to golf break location in England.
Our 133-acre parkland golf course is ideal for all skill levels, running alongside the River Thames you'll explore a stunning course in the countryside. Originally designed by former Ryder Cup Captain, Brian Hugget, the course is a favourite among all golfers.
The Springs has a range of accommodation, from hotel rooms perfect for weekend golf breaks near the city, to one-bedroom hotel-lodge accommodation designed for short golf breaks. We also offer larger, self-catered, Millpond Lodges, with hot tubs and spectacular views, making them ideal for longer golf holidays in the UK.
The Springs also offers guests stunning, first-class facilities, including the 1893 Spa offering a range of treatments and The Ridgeway Restaurant serving mouth-watering dishes.
who are

golf breaks

in the UK for?
Whether you're looking for a couple's escape or a friendly get-together, a golf break in the UK is perfect for you.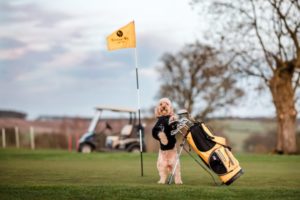 If you and your loved one enjoy a good game of golf and are looking for a new course to test your skills, then our stunning courses are perfect for you. Alongside testing your skills, golf holidays in the UK allow you to explore picturesque locations.
If you're a solo traveller, then a golf break with Darwin Escapes is for you too. With single accommodation available, you can play the course on your own, or tee off with some of our friendly regulars.
Whatever kind of golf holiday break you're searching for, we know you'll find that ideal golf holiday in the UK with us.
what sort of

accommodation

is available on a golf break?
All our accommodation comes fully equipped with everything you need for a self-catered golfing getaway.
Our lodges at Dundonald Links are purpose-built for a golf break in Scotland, with 2, 4 and 6 bedroom options. Each lodge provides guests with bedrooms with ensuites and clever storage solutions for all the golf paraphernalia. Designed with fully equipped fitted kitchens, open-plan living areas, Sky Sports and a dedicated practice green outside your front door, we're sure you'll love a luxury golf break here.
Accommodation at The Springs in Oxfordshire, is finished to an exceptionally high standard and has everything you need for a luxurious golf break. Choose from traditional hotel rooms or self-catered lodges.
Escape to the Yorkshire countryside and enjoy our lodge accommodation at Kilnwick Percy Resort. With views overlooking the course and countryside, wonderful woodland wanderings to explore and fabulous facilities, it's more than a golf break at our resort. All our lodges have private hot tubs for an added slice of indulgence.
when is the

best time to book

a golf break in England and Scotland?
You can book a UK golf break with us all year round, although there are better times to play golf than others.
The golfing season runs from April to September, and it's widely said that autumn is the best time to play. Courses aren't as busy as high season, and the changing seasons provides a stunning backdrop.
The high season in golf is May, June, and September, whereas the low season runs from November to March. Start planning your golf holiday today and experience a golf break with Darwin Escapes like no other.
why choose Darwin Escapes for your golf break?
Having recently invested millions of pounds into our golf resorts, you can be sure that your golf break with us will have everything you need and more for a perfect getaway.
With a range of facilities on offer, including stunning spas, hot tubs and beautiful restaurants, all situated in picturesque locations, you're sure to have the best golf holiday in the UK at one of our stunning resorts.
how to book your golf break
Booking your UK golf break with Darwin Escapes is easy, head to the resort you want to book using the blocks below and book your stay. If you have any questions about a golf holiday you can contact our friendly team.