find out more about our
pet friendly holidays in Surrey
our
dog-friendly

holidays in Surrey

We have a range of pet-friendly accommodation in Surrey to choose from at our idyllic Tilford Woods Lodge Retreat.

Surrey is an ideal location for holidays with your furry friend's thanks to the plethora of pet-friendly locations which are just waiting to be explored. Take a look at what we have on offer with our pet-friendly holiday lodges in Surrey at the highly rated and well-established Tilford Woods Lodge Retreat.
dog-friendly holiday lodges in Surrey
We have a range of log-cabin-style lodges available at our glorious Tilford Woods Lodge Retreat which is located in the stunning Surrey countryside.
Each lodge is beautifully decorated with the aim being to maintain the naturalistic feel of the surrounding area, with a range of modern yet comfortable furnishings inside including fully equipped kitchen units and complete entertainment packages including flat-screen TVs and DVD players which allow you to take advantage of the DVD rental facility which is available through our on-site reception.
Many of our lodges also come with their own inbuilt saunas and private hot tubs. Be sure that your lodge has these facilities when you make your booking if this is something you are looking to secure. You are sure to be kept warm during your stay due to our luxurious under-floor heating system.
pet-friendly holiday park in Surrey
We actively strive to maintain these high standards of luxury outside your lodge as well as in with our on-site grounds team dedicating huge amounts of time around the year to ensure that the resort fits in with the natural feel of the surrounding area.
This has made our resort a hotbed for the local friendly wildlife, and you are likely to see countless squirrels and moorhens. Tilford Woods also has its very own family of ducks who can regularly be seen wandering around the resort.
On top of the DVD rental service, you will also be able to purchase local produce from our on-site reception or sample some of the stunning locally produced ice creams. There is also a laundry room that is open 24 hours a day so you have everything you need for the ultimate self-catering holiday in Surrey.
pet-friendly activities in Surrey
Tilford Woods Lodge Retreat is ideally situated in a secluded rural area with countless walking routes which are sure to prove popular with both owners and pets.
There are also plenty of pet-friendly attractions to be explored slightly further afield. The resort is close to the market town of Farnham which has numerous gift shops, bars, and restaurants that are just waiting to be explored.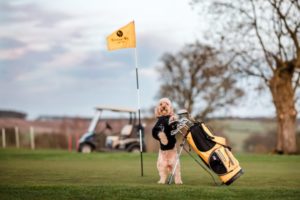 Near Farnham is the Pride of the Valley Sculpture Park where dogs are welcome so long as they are kept on a lead. Here you can view a diverse collection of over 600 sculptures created by 300 renowned and emerging artists from around the world. There is a mix of modern and contemporary designs on display and this is sure to be a popular destination for art lovers. There is also wildlife inhabited water gardens to be explored on the facility where your dog would surely have hours of fun.
If you are more of a history buff, then Waverly Abbey (also in Farnham) is another great pet-friendly attraction to visit. This is located near the River Wey and has been standing for close to 900 years having been built by the Bishop of Winchester (William Gifford) in 1128. At its peak, the abbey had 70 monks and 120 lay brothers on site but was eventually partly dismantled in 1536 as part of King Henry VIII's dissolution of the monasteries. The ruins which remain are still fascinating and a great insight into the history of this great region.
This is just a small sample of all the pet-friendly attractions which are available in Surrey. With so much to do and see, you are unlikely to ever get bored so book your pet-friendly holiday lodge in Surrey with Darwin Escapes today.